How to Throw a Kid-Friendly Holiday Party – Plus Recipes!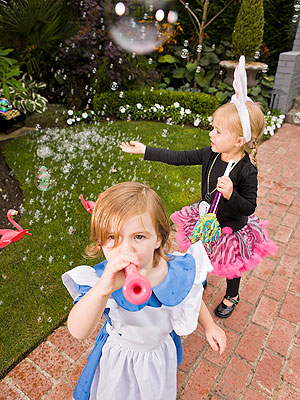 Courtesy Heather Christo
Planning a family-friendly holiday party isn't as easy as it looks.
The goal is to make sure both big and small guests enjoy themselves and let's be honest, kids often get the shaft.
To get the right mix, we tapped entertaining guru Heather Christo (below) for some fun ideas.
Check them out below:
Create cool drinks for every age. While the adults sip on alcohol, make sure there are some fun drinks for the little ones. Sparkling juices, sparkling water or apple cider make kids feel special.
Another great idea is a hot chocolate bar. This has been a hit at many of my holiday parties. Plus, there are so many hot chocolate recipes (milk, dark or even white) to try.

You could also add yummy add-ins including crushed peppermint, toffee and red chili. Freshly whipped cream, homemade or flavored marshmallows, candy canes, cinnamon and chocolate shavings make for beautiful (and delicious!) toppings. For the grown-ups, try peppermint schnapps or Kahlúa.
Keep sweets out of reach. If you know there will be a lot of kids running around the house, be thoughtful about how many little bowls of candies and sweets you leave around on side tables. It is great if you are relaxed about it, but a word of warning from personal experience: if they can reach it, they will eat it. And then they will bounce off the walls! I have found many a chocolate wrapper melted to the couch cushions and smeared on the stairwell wall. Just be aware.
Make food displays fun. I always love a good cheese platter well stocked with accoutrements like fresh fruit, honey, nuts and an assortment of crackers. Crudité with an assortment of dips works beautifully as a healthy snack before hitting the holiday cookie spread. Roast turkey breast or ham set out with condiments and small buns invite everyone to make little sandwiches and are always popular.
Be crafty. My go-to option is an arts and crafts table. I usually set up a six foot folding table and cover it in butcher paper and then top it with plastic bowls filled with crayons, glue sticks, sparkly pom poms, googly eyeballs, construction paper, etc. To give the project a holiday theme, add photo copies of snow men, Christmas trees or other seasonal clip art.
You could also put out "ornaments" made from balsa wood (sold at craft stores) so that children could make their own ornaments to take home. The kids will be so busy creating little masterpieces that they may actually give their parents 5 minutes to chit-chat with the other adults!
Another idea is to have a table set up for cookie decorating. I usually pre-bake my favorite sugar cookies and cut them into seasonal shapes like Christmas ornaments, trees, snowmen, etc. I then set out piping bags with different colors of royal icing inside, along with little bowls of assorted candies and sprinkles. Talk about fun!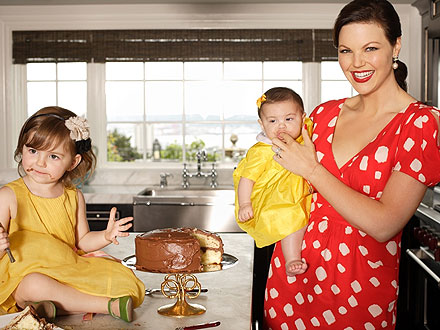 Courtesy Heather Christo
Sugar Cookies (makes 2 dozen)
These cookies are amazing — they are so much lighter and flakier than other sugar cookies that you will find. This is a true French sugar cookie recipe, and is probably my very favorite. I have used this recipe countless times and they are always a hit. You can accompany these with royal icing, or simply sprinkle them with granulated sugar, which make them sweet, sparkly and slightly crunchy.
– 2 sticks unsalted butter
– pinch of salt
– ¾ cup powdered sugar
– 2 yolks
– 2¼ cups AP flour
1) Preheat the oven to 325 degrees. Prepare sheet pans with silpats or parchment paper.
2) Cream together the butter and salt, and whip until creamy. Slowly add the powdered sugar and beat until light and fluffy, about 2 minutes. Add the yolks and mix to combine. Add the flour until just barely combined (overmixing will make them tough).
3) Wrap the dough in plastic wrap and refrigerate until the dough is firm and chilled enough that you are able to handle it.
4) I reccomend rolling the dough out with powdered sugar, NOT flour. Cut shapes with a cookie cutter and gently lay them on the silpat covered sheet pans. If you are going to sprinkle them with sugar, do it now.
5) Bake for 8-12 minutes. (It really depends on your oven). They should remain verypale, and should NOT turn golden brown. If they start to color on the edges, remove them immediatley.
6) You should be looking for them to just be firm to the touch. They will continue to firm up a little bit as they cool. I would leave the cookies on the sheet pan to cool, (at least a little bit). This will make them less prone to breaking.
7) If you are going to add royal icing, wait until the cookies are completely cooled to decorate.
Homemade Peppermint Hot Chocolate (serves 1)
You can adjust this simple recipe according to the number of people that you are hosting — I have made pots of it for as little as 2 or up to 50 people. Be creative with the garnish options!
– 1 cup whole milk
– 1 oz good quality semi-sweet chocolate, chopped
– 1 oz starlight peppermint candies, crushed
– 1 oz peppermint Schnapps (optional)
– 1 candy cane
– 3 Large Vanilla Marshmallows
1) Heat the milk in a pot until very hot, but not boiling. Add the chocolate and the peppermints, and stir them until they are melted and smooth.
2) Take a warm mug, and pour the Schnapps into the mug (if you are using).
3) Then ladle the hot chocolate to the mug, and top with three of the marshmallows and a candy cane for stirring.