Angela Kinsey: Isabel Loves My (Fake) Baby Bump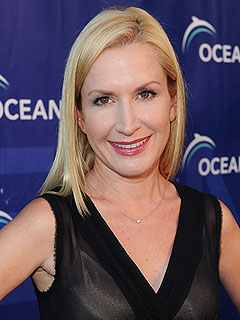 Jason Merritt/Getty
Angela Kinsey is sporting a baby belly — at least during office hours.
With her character on The Office expecting her first child, the actress's wardrobe now includes a prosthetic bump, much to the delight of daughter Isabel Ruby.
"The day I got fitted for it, I brought my 3-year-old daughter. Why would I do that? That's weird, what am I doing to her?" Kinsey, 40, joked during a Wednesday appearance on Conan.
"She was like, 'You have a fake belly and it squishes.' And then she was [poking it like a punching bag]."

But her faux pregnancy isn't Kinsey's newest asset; During her work on her upcoming film Struck by Lightning, she was fitted for enhancements in other areas, too.
"The director thought it'd be fun if I had a fake butt. So I was like, belly one day, butt the next day," she laughs. "It's very round. I got attached to it … it was like my Kardashian moment."
And for those who weren't in on the secret, Isabel took it upon herself to share the news. "My daughter started saying things to my neighbors like, 'My mama has a fake butt,'" Kinsey says. "And I was like, 'She's … messed up. Sorry.'"
In the middle of potty-training Isabel, Kinsey admits the process has left her little girl with an obsession she can't seem to overcome. "If you came over to my house and had to go to the bathroom, she'd be like, 'He's going, let's go everybody! Check it out!'" she explains.
That fascination even extends to Kinsey's trips to the toilet, a lesson the first-time mother recently learned all too well.
"The other night I went to the bathroom and I didn't tell her [because] she was playing. And then she literally came around the corner and was like, 'Did you just flush the toilet?' and I was like, 'Yeah.' And she's like, 'But I wanted to see you poop!'" she recalls.
"And she started freaking out and she was like, 'Poop again! Poop now!' and I was like, 'No, I'm not going to poop again! You don't do that!' For five minutes she was like [sobbing], 'I didn't see your poop!'"
Vodpod videos no longer available.
— Anya Leon