4 Tips to Helps Parents Master Cyber Safety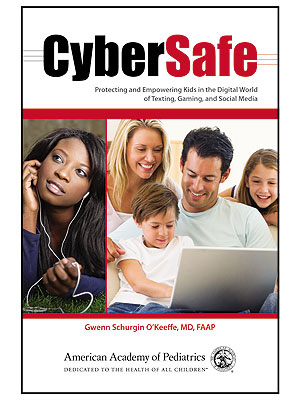 Courtesy Cedar Fort, Inc.
After taking her practice to the Internet in 2005, pediatrician Dr. Gwenn O'Keeffe realized the issue of parenting kids on the Web was fast becoming a recurring topic of interest among her clients and friends.
"There wasn't a lot of guidance in parenting kids in that space," she tells PEOPLE.
"I started looking into the issue more as people started asking me my opinion about it, as cyber safety became a catch phrase. Before I knew it, I was knee-deep in that whole terrain."
As a result of her research, Dr. O'Keeffe penned the book Cyber Safe: Protecting and Empowering Digital Kids in the World of Texting, Gaming and Social Media, with much influence from her own dealings as the mother of two teenage daughters.

When her oldest daughter was only 7, she received a few electronic messages that were mean-spirited from a friend, and at the time, neither Dr. O'Keeffe nor her daughter's school knew how to handle the situation.
"Today, someone might call that cyber bullying," she says. "Back then, we just realized we needed to help our kids communicate better. That was my first glimpse that kids can really lash out through technology for no reason. The more technology they get involved in, each step of the way, we have to talk to them about right and wrong."
To help parents better monitor their kids' online presence, Dr. O'Keeffe lays out a few simple suggestions in her book, outlined below:
Create a family use plan. In addition to setting rules about children's Internet usage, parents and other family members should also be held accountable for their time online. "What's nice about that is it puts the whole framework of technology in a family-focused positive light, so everyone knows what's expected, everyone follows the same rules, and everyone knows the consequences," Dr. O'Keeffe says.
"It's important everybody sit down and talk about what works and doesn't work because kids often pick up their bad mistakes from their parents. So when you talk about what makes sense for all of us, they might point out what you're doing that they're picking up on."
Consider age-appropriateness when setting parameters. When it comes time to outlining limits, Dr. O'Keeffe advises taking kids' ages into account. For example, kids under the age of two should see very little time in front of a screen of any kind, whether a TV or a computer. For elementary school children, she recommends a maximum of two hours of recreational online-use.
And for teenagers, "I think we have to help them have a balance of online and off-line activities so their whole day isn't spent in front of a screen," she says. "Help them recognize it's different to be searching the Internet to do a research project than it is to be on Facebook."
Keep pace with what your kids are doing. The best way to stay informed on how kids are using the Internet is to learn to use it beside them, especially for technophobe parents. "Have your kids sit down with you and show you how to get to the Internet," Dr. O'Keeffe says. "Before you know it, you'll start to see what your kids can and can't do."
To that end, she also recommends parents sign up for sites such as Facebook in order to help guide their children using specifics. "If you see a post that you're not sure about, it allows a teachable moment where you can sit down with your teenager and just ask them what they meant by it," she says. "Very often they will write something they think means one thing, but to the outside world, means another. As parents, we immediately go to the frantic side when we see something posted that might represent some side of our kids that's not positive, but in many cases, there's an explanation for it."
Expose children to technology as needed. While cell phones can be a positive tool when used appropriately, Dr. O'Keeffe says to seriously consider how much children really need them before handing them out. "Where I think problems come in is when kids get a cell phone when they're too young for it," she says. "Ask yourself, 'Do they really need it? Is this a safety issue? Do they have a medical problem?'"
For young children, a cell phone without texting or Internet capabilities should be sufficient. And when deciding whether to activate such features, Dr. O'Keeffe advises, "You have to make sure you're comfortable as a parent talking to kids about sexting and cyber bullying. If you don't think those kids are ready for those things, then they're not ready for technology."
– Kiran Hefa