Review: Graco Swing by Me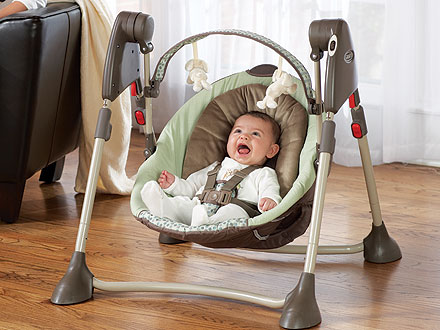 Courtesy Graco
Getting into the swing of things as a new parent can be tough. As you move from room to room around your house, how do you find a sweet spot for your newborn in each and every space?
It seems that Graco has finally found the answer with their Swing By Me ($70), a 2-in-1 completely portable swing. Say goodbye to leaving your little one out of sight and get ready to bring them along for the ride. Check out our review below:

Thing We Like
The name says it all: Transporting this swing is a dream. Moving from room to room and want baby close? Just push down on the two side buttons, push the legs together, and — presto! — you're ready to get up and go.
And whether you're in the kitchen cooking dinner or on the floor interacting with your babe, the swing meets all your needs with its two height positions and five-point harness. At the number one position, the swing sits at its full standard height. At the number two position, however, the entire swing lowers close the floor, so getting down to your little one's eye-level has never been easier.
You can get your baby swinging in no time by running your finger along the convenient speed adjuster. But if you prefer to push your precious cargo manually while you're bonding with baby (or trying to get them to sleep!), then the swing works for that, too.
Once your child is ready to head off into dreamland, pull up the lever at the top of the seat for the full reclining position. Not only will your child love cuddling up to the super soft (machine washable!) fabric, but the plush seat is molded into the perfect cradling position to keep them feeling securely snuggled — almost like mama's arms! Almost.
Things We Didn't Like
The noise. With its rhythmic humming (and occasional clicking) as baby swings back and forth, the noise level isn't exactly nonexistent. But, as long as parents can stand the extra background buzz, then baby is likely to find the vibration somewhat soothing. And a soothed baby is a sleepy one, right? Enough said.
Also, while we love that we can adjust the swing's height to fit baby's needs, changing from one position to the other can be awkward. The buttons on all four of the legs need to be pushed in while simultaneously pulling the swing upward. After you get used to maneuvering the swing you're likely to become a pro, but amateurs may initially have some trouble.
Moms & Babies Rating
If you're on the hunt for an affordable — but more importantly portable! — swing, then Graco's Swing by Me is definitely worth checking out.
— Anya Leon