Kourtney Kardashian: Styling Mason Is 'So Much Fun'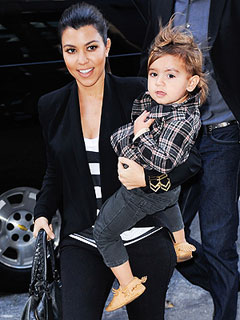 Ray Tamarra/Getty
It looks like soon we may just be keeping up with Kourtney Kardashian's son Mason Dash — at least in the style department.
In a video tour of the 23-month-old's New York City closet, the star of Kourtney and Kim Take New York gives a sneak peek inside her toddler's wow-worthy wardrobe.
"I love dressing Mason more than dressing myself," the reality star, 32, tells E!. "It's so much fun picking out his clothes and making outfits and giving him style."
When it comes to creating that style each day, Kardashian's secret is simple. "I'll pick one item to start dressing … and then I'll build his outfit from that," she explains.

Lately, the fashionista is loving the layered look for Mason, a trend, she says, is particularly important on the East Coast. "Here in New York I think it's all about layering, which makes the outfits more stylish," Kardashian shares, while pointing out a Ralph Lauren jean jacket.
Mason has also been known to have an occasional dress-down day, rocking a pair of jeans with a white tee. However, that doesn't stop Kardashian from finding other fun ways to accent his look.
"You can make the outfit cute by adding sunglasses. He has these hot pink ones and I'm not afraid of pink for boys," she says.
"Hats are a fun way to instantly add style. Mason doesn't always keep his hats on, but he starts with it and if he's over it, takes it off. That's fine, I don't force him to do anything or wear anything."
But the most important item in his fashion finds? The shoe collection, which include his favorite pair of soft-sole moccasins — in every color!
"These are probably my favorite ones. Every time he grows out [of them], I get a new batch and I get them in every color," she reveals, also admitting to being "obsessed" with his gold Supra hi-tops.
"I think with boys … it's all about shoes. I've seen so many little boys and their outfits are so cute and then their moms put kind of dorky shoes on them."
And while Mason's closet may be stocked with designer duds, Kardashian is the first to admit she loves a good bargain, too.
"Kids definitely grow out of their clothes really quickly, so I'm all about mixing and matching," she says, revealing H&M is her favorite "really affordable" option.
As for Kardashian's final style tip? "Let the grandmas buy the expensive stuff," she whispers.
Vodpod videos no longer available.
— Anya Leon