Katie Finneran: Shooting Pilot Six Weeks After Baby Was 'Hard'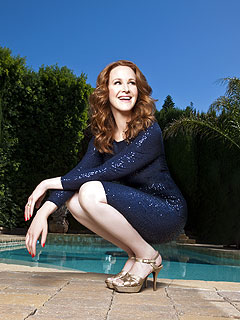 Gilles Toucas
Katie Finneran had just welcomed son Ty when she landed the role of Nikki Miller on I Hate My Teenage Daughter, and the transition to working mom proved harder than expected.
"I auditioned for the pilot practically while I was still in the hospital," the actress, 39, tells PEOPLE.
"My baby was 6-weeks-old when we arrived in Los Angeles to rehearse and shoot the pilot. It was so hard. I couldn't remember my lines."
Luckily for Finneran, costar Jaime Pressly, who is mom to 4-year-old son Dezi James, had been in her shoes before. "Jaime was so wonderful," she says.
"She helped me through the whole thing. I was still breastfeeding; the baby was up all night. It was really hard, but it sort of gave me a little edge that I needed to play the role."
The FOX comedy, which premieres Wednesday at 9:30 p.m., centers on Finneran and Pressly's characters struggling to raise their teenage daughters. But while her onscreen child can be a handful, Finneran can't say the same for her now 9-month-old son.
"He's so sweet. I have the best baby boy," she reveals. "He has a great sense of humor. When I run my lines with him, he always laughs at the punch lines — which we don't understand how he knows how to do that — but he always laughs at them. He's just a really happy child."
Fortunately, with the show's easily navigable schedule, Finneran is never far from Ty, who also occasionally visits mom on the set.
"The cast is really loving, a great family-friendly cast," she says. "We all get together on the weekends and have a barbeque. My son has been in the arms of every cast member on the show."
And much like their moms, Ty and Dezi have developed a close relationship, as well.
"They love each other," Finneran shares. "Jaime just gave me two big bags of her son's clothing that doesn't fit him anymore. So I have this fashionable, beautiful wardrobe for my son thanks to Jaime and Dezi."
— Kiran Hefa