Miranda Kerr: Flynn Loves Playing Peek-a-Boo with the Paparazzi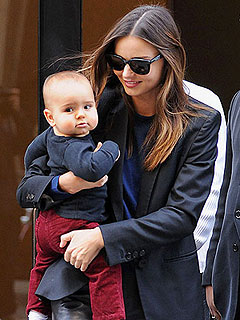 A. Ariani/Splash News Online
When it comes to her presence in front of photographers, it seems as if Miranda Kerr is passing it all on to her son Flynn Christopher.
On a recent outing in New York, Kerr tried her best to keep her 10-month-old shielded from the shutterbugs — but he was having none of it!
"It's so funny because I was putting the scarf over to cover him from the paparazzi," the Victoria's Secret model, 28, said during a Monday appearance on Chelsea Lately.
"And he was pulling it up, going, 'Hey, guys! Here I am. Look at me!'"

Kerr welcomed her first child with husband Orlando Bloom last January following a drug-free delivery. But while she may have opted for a natural birth, the actor wasn't quite as convinced!
"Orlando wanted the epidural, to be honest … for himself," she jokes. "I was so determined and I just made up my mind that I didn't want to have the epidural. I was actually induced, so it was much more intense."
Her experience is still paying off, she laughs, adding, "Now I can much more easily handle a paper cut."
And while his model mama loves rocking it on the runway — which she will be doing during Tuesday's annual Victoria's Secret Fashion Show — Flynn has also been known to get his groove on.
"He loves hip hop. When I had him in my stomach, I'd play music and sometimes I'd put on hip hop and dance around," Kerr shares.
"So now I put hip hop on and he shakes his head and gets into it."
Vodpod videos no longer available.
— Anya Leon