5 Tech Items to Add to Your Nursery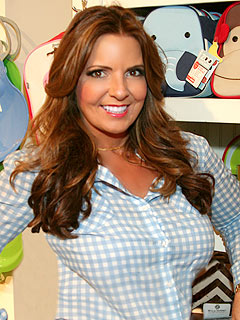 Courtesy Lorico Photography
Nowadays, having a crib, changing table and some pretty décor just isn't enough for a baby nursery.
Technology is a big part of our lives and now it's a part of our children's lives, too.
And since nurseries are not just baby bedrooms, but actually much more (it's where mother and child bond, it's where you feed and change your baby, etc.), there are certain tech items you should consider when designing your tot's room.
According to celebrity designer (and mom of two!) Courtney Cachet, the key is to seamlessly incorporate electronics so it doesn't feel more like a media room than a nursery.

"They should be small, attractive and whenever possible, unseen," she advises. "But remember: no tech item can ever replace the warm embrace of a mother's touch."
For an idea of what to add, we've tapped Cachet for her top baby tech recommendations. Check them out below:
Baby Motion Monitor. All parents are constantly worried about SIDS or anything happening while their baby is sleeping. These monitors, which hide under baby bedding, detect whether there is a lack of breathing. If there is no movement after a few seconds, you are alerted by a beeping sound. Until I bought one of these, I never had a good night's sleep. Cachet's Pick: Angel Care Bebe Sounds
Video Baby Monitor. This is another fabulous invention for new parents. The latest variations are wireless, touch screen and project images over three inches. I say, if it calms your nerves, you should definitely get it! Cachet's Pick: Baby Touch by Summer infant
Temporal Thermometer. Ask any mother what it was like the first time their baby had a fever and they had to take their temperature. I'd venture to say it was on of the top 10 nerve-wracking experience for most moms — including me! These thermometers work by just pressing it on your baby's head. Can you say, genius? Cachet's Pick: Exergen Temporal Thermometer
Wireless Music. This is a definite must have. Have your playlist ready with lullabies, classical or rock and roll — basically whatever soothes your baby. The best part: You can control it from another room in the house via your iPhone. Hmm, smart! Cachet's Pick: Sonos PLAY 3
Television. Ten years ago this would have raised eyebrows, and perhaps it still does. However, a lot of parents like to play videos for babies and there are ways to do it without slapping a 50 inch flat screen in the nursery. If you do go this route, why not make it look like a toy? I found a great TV that comes in a variety of animal shapes: zebra, giraffe, polar bear to be exact! And at 19 inches, it's big enough without taking up too much space. Cachet's Pick: Hannspree Animal LCD TV