Get Crafty this Winter with Wool and the Gang's Knitting Kits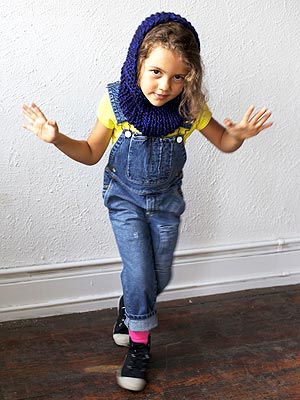 Courtesy Wool and the Gang
It's knitting weather! And if you're dying to create an adorable accessory for your tot but are creatively-challenged like us, Wool and the Gang knitting kits are a great place to start.
The company, which sells ready-made adult clothing with celebrity fans including Ed and Christy Turlington Burns, Meryl Streep and Marion Cotillard, just launched a collection of knitting kits that helps you make innovative wooly wear for the mini set.
Keep tiny hands fashionably toasty with a striped scarf that has built-in pockets ($79) — perfect for the child who loses everything! Or, wrap your kid's noggin in a chunky hood ($69, left) that's also a scarf.

There are six kits available, all for beginning level knitters. For the slightly more advanced, there's the Oh! Baby Set ($105) made of 100 percent Peruvian alpaca, which is the perfect gift for the tiniest (and trendiest!) newborns. Still want more of a challenge? You can search the site for a slew of advanced projects.
And with eye-popping colors like Lipstick Red and Magic Mint, your Wool and the Gang hand-crafted design is guaranteed to get at least one, "Where did you get that?" comment from fellow moms.
Wow them by saying you made it yourself!
— Amy Jamieson