Debra Messing: The Holidays Are for Giving Back
With Black Friday happening today, holiday shopping season is upon us. But Debra Messing is marking the time of year by remembering to put others first.
"I think like everyone else, the holiday season is the time you feel most inspired to be charitable," she tells PEOPLE. "So when eBay contacted me and let me know about their imitative, I thought it was brilliant."
The actress has partnered with the online retailer for their "Give-A-Toy Store" campaign, which features a unique window display that allows shoppers to scan barcodes via smartphones in order to make a donation to the children's charity Toys for Tots.
"We're in a day and age where we want things to happen quickly," Messing says. "I think eBay was pretty brilliant in making giving instant and simple, so you can feel great instantly."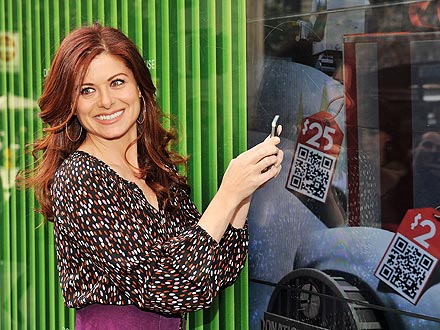 Courtesy eBay

That philanthropic spirit is something the actress also makes a priority in her home life, including with son Roman, 7½.
"We talk all the time about how important it is to be grateful for what we have and about giving to those who don't have the essentials and who are in need," she says, describing an instance in which her work as a global ambassador for YouthAIDS helped get Roman involved.
"I traveled to Zimbabwe for 12 days and I sat down with my son to explain to him why I was going to be away," she continues.
"I went to his closet, and took all of his old clothes and packed it up in a suitcase and brought it to Zimbabwe and we gave it to an orphanage. When I came back and told him that his clothes really made a difference, it made him feel like he had done something good. I think it's an important lesson to start as early as you can."
And while Messing's good deeds serve as an example for her son, Roman was more recently impressed with his mom after she played middle man on the set of her new NBC show, Smash.
"My son comes to the set all the time to visit," she says. "He just came two days ago because Bernadette Peters is guest-starring on the show. He and I watched a DVD of Into the Woods, which is a Broadway musical she did that is all about children's fairytale characters, and Bernadette played the wicked witch. When I told him he could come to work and meet the wicked witch, he was just so excited. I was a hero for the day."
Having relocated to New York to shoot the series, which centers on the production of a Broadway musical, Messing is looking forward to a Big Apple Thanksgiving with her family.
"We're watching the parade," she says. "We're just enjoying Thanksgiving in New York."
— Kiran Hefa