BumpWatch: Bryce Dallas Howard's Gorgeous Glow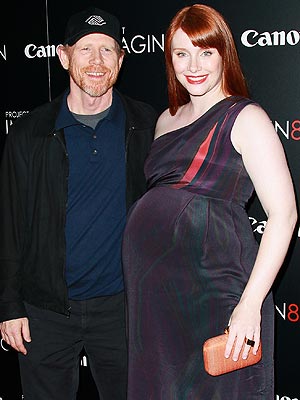 David Livingston/Getty
Getting so close to the end!
Bryce Dallas Howard poses with dad Ron Howard at the Los Angeles premiere of When You Find Me, a short film she directed and her father produced for Canon Imagin8ion, held at the Ray Kurtzman Theater at CAA on Monday.
"My first pregnancy I gained 75 pounds. I had every intention … I told myself, 'I am going to be so fit this pregnancy,'" the actress, 30, told PEOPLE recently.
"But I have pound for pound been the same weight at every single milestone! I'm German — my body wants to carry like a tank. It is what it is."
RELATED: Bryce Dallas Howard: I Need a Permission Slip to Fly