Cynthia Nixon: Max Will Try His First Thanksgiving Stuffing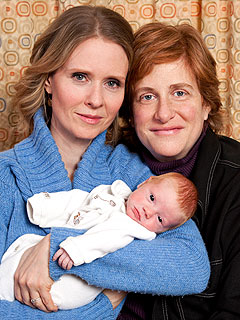 Brian Ach/ID-PR/AP
Cynthia Nixon and her fiancée Christine Marinoni are enjoying plenty of firsts with their 9-month-old son, Max Ellington. Next up: baby's first Thanksgiving.
"He'll probably try some stuffing," Nixon, 45, told PEOPLE while volunteering at City Harvest's Thanksgiving Mobile Market in New York City Tuesday.
"I'm making a turkey and a couple kinds of stuffing."
The actress worked on an assembly line packing bags of food for those who need it.
"The next time I come back, I'll come with my kids so that they're not in school and they can help out, too."

Also mom to daughter Samantha, 15, and son Charles, 8, (their dad is Nixon's ex Danny Mozes), Nixon says she's loving having another baby.
"It's great — really great," she says. "He is a lovely, cute, very communicative little kid."
Marinoni gave birth to the couple's son in February, and the whole family has been pitching in since his arrival.
Cynthia's older children "do help out with him, particularly my [elder] son. He is really sweet with him," Nixon says, adding that her daughter also helps out with Max when she can.
"My daughter has got so much homework — she's a teenager!"
— Isley Kasica