Jeffrey Dean Morgan: Gus Answers 'No' to Everything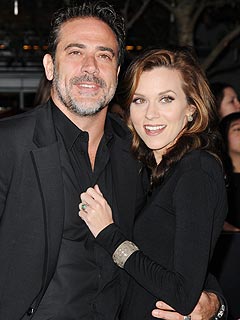 Jill Johnson/JPI
It looks like actors Hilarie Burton and Jeffrey Dean Morgan aren't the only ones who can put on a good show.
The parents of son Gus, 20 months, admit their "rowdy" baby boy is already giving them a run for their money.
"He learned how to say, 'No.' He used to say, 'I'm done,' and now he looks at you and says, 'No!'" Morgan, 45, told PEOPLE during the Breaking Dawn – Part 1 premiere on Nov. 14 in Los Angeles.
"It's like, 'Gus, can you come here?' He's like, 'No!'"
But, for now, Burton, 29, adds that Gus's newfound defiance is all fun and games. "He says it with a laugh, like it's hilarious," the White Collar star says.

The tight trio recently spent time in Miami Beach as Morgan filmed his new STARZ show Magic City and, despite the constant juggling of job and baby, the couple coped — mostly — on their own.
"It's hard. Between the two of us, we've had our hands full. But we've managed to do it without any help," the actor reveals. "We have babysitters now and again, but we don't have nannies. We wing it, man."
However, their no-nanny stance hasn't come without the occasional sacrifice. "This is our second pseudo adult-night out," he laughs.
"I'm going to say pseudo because I'm not sure if Twilight is an adult night. It's a night out."
— Anya Leon with reporting by Jessica Wedemeyer