Hilary Duff's Baby Bump Is on the Move!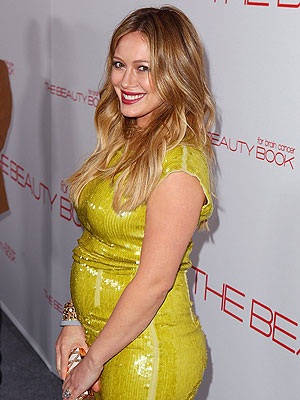 Joe Scarnici/WireImage
Mom-to-be Hilary Duff may still be pregnant, but her baby boy is already set on stealing the spotlight.
"Today I got out of the shower and one side of my stomach [was] way bigger than the other side. It was the first time that I saw the baby actually moving in there!" the Devoted author, 24, told PEOPLE Monday at the launch of The Beauty Book for Brain Cancer in Los Angeles.
"It was like I had a little alien inside! I was hoping that the baby would move back over by the time I had to go on the [red] carpet."
And after keeping it under wraps, Duff — who stepped out in a green sequined mini dress — is finally ready to bare her belly.

"At first I was wearing looser things because you're a bigger version of yourself and you're not really showing," the actress shares.
"But now that I'm showing I'm kind of like, 'Well, it's there, and everyone knows it's there,' so I think it looks better to wear tighter clothes."
Despite an easy pregnancy, Duff — who will welcome her son next year — admits she has had a few self-imposed scares along the way.
"I feel like the first pregnant woman on Earth. Every time I feel something, I'm like, 'What is this? What's happening?' And I'm Googling and finding out that everyone has had the same symptoms and I'm totally not original," she laughs.
But even though the expectant mama is generally simply suffering from ligament stretching, "which sounds really scary, but which isn't scary at all," she is ready for husband Mike Comrie to carry some of the load — literally!
"You know what I heard? I thought this was so funny — people actually have these prosthetic bellies that they can put on their husband that weigh as much as the baby does," she says.
"[It] pushes on the bladder and strains the back so the husband knows what the wife is going through."
Although Comrie has "definitely not agreed to do this," Duff jokes he's not completely off the hook just yet.
"I might give it a shot later on because there's sympathy, but I want him to deeply understand what this is like," she explains.
— Anya Leon with reporting by Reagan Alexander