Eric Church Reveals Wife's Pre-Show Pumping Performance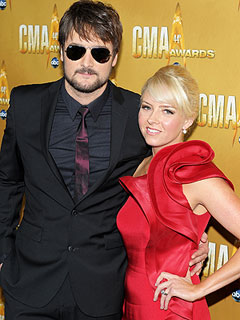 Michael Loccisano/Wireimage
Before Eric Church hit the stage Wednesday night for his performance at the CMAs, the country crooner and wife Katherine were busy coordinating a side act of their own.
The couple spent the time prior to the awards show in a hotel room. The reason? Their 5-week-old son Boone McCoy — who was waiting at home — had to eat!
"This whole night, for me, is just rock and roll! My wife [was] pumping breastmilk at the Hilton next door," Church, 34, told PEOPLE backstage.
But the pressure was on when things took a bit longer than usual.
"We were running late and had to get over here to play the show and she was on her left breast — we had done the right one. We were waiting for the pump to finish and I was like, 'We gotta go!'" he laughs.

"And now we've stuck breastmilk in a car and the car's on its way back to the house and then the car's going to come back to get us. Then we're going to go back [to the hotel] and pump again after the show."
However, while Mom may be the one providing the milk, it's Dad who has the magic touch to get his son to sleep.
"I'm going to wear a ring around our dining room table just walking around it," Church shares, adding Boone enjoys being bounced best of all.
"It's a pretty cool feeling when no one else other than me can get him to go to sleep. I'm the guy who gets him to go down."
The proud papa jokes that when it comes to his son's sleeping schedule, Boone is already a boy after his own heart!
"It's great because he's got entertainer's hours — he sleeps all the time except between 11 p.m. and 3 a.m. and then it's rock and roll. It's show time," Church jokes.
— Anya Leon with reporting by Eileen Finan