Tiffani Thiessen: We Have 'Built In' Babysitters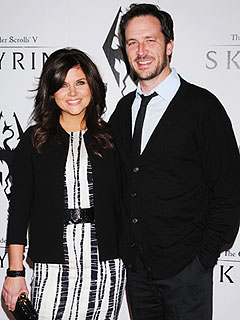 Gregg DeGuire/FilmMagic
Since becoming parents, date night is no longer get ready and go for Tiffani Thiessen and husband Brady Smith.
Fortunately, the couple don't have to look far for a set of hands that are always happy to help with 16-month-old Harper Renn.
"My mother. My father. They're perfect and they're built in," the actress, accompanied by Smith, told PEOPLE while enjoying a "night for just the two of us" during Tuesday's launch of The Elder Scrolls V: Skyrim.
"We actually put [Harper] to bed ourselves, so she has no idea that we're not home."

Between her White Collar role and raising her daughter, Thiessen, 37, admits the balancing act can be tough; Her mother and Smith, however, make it all doable.
"I'm not doing it alone. I have my mother who helps out a lot with my daughter, and I have my husband," she explains. "They make it so much easier for me to be able to … work and to do the things that I want to do, and to be able to spend as much time as I do with [Harper]."
And with all the extra time to spend with her toddler, Thiessen is thrilled to have witnessed many of her baby girl's latest milestones.
"She's running now, not walking. She walked around 10 months, which is somewhat early. She is now running, and she's only almost 17 months now," she shares.
"She's babbling and saying tons of words here and there. 'Mama' was her first word and then 'Da,' not 'Dada,' but 'Da.'"
Harper has also learned to put on her shoes and socks — but still needs a bit of help from Mom!
"She doesn't choose, she just puts them on," Thiessen laughs. "Boy, that would be interesting if she actually chose them herself. She'd have one Croc and one tennis shoe. It would be hilarious."
— Anya Leon with reporting by Reagan Alexander