5 Ways to Eat Healthy While You're Pregnant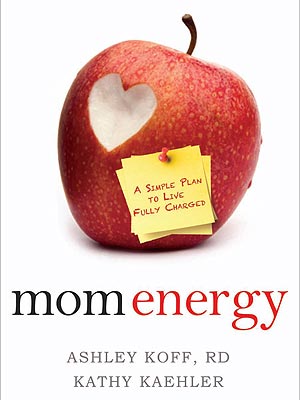 Courtesy Hay House
When mom-to-be Emily Deschanel decided to maintain her vegan diet during pregnancy, she turned to dietician Ashley Koff to learn which foods and beverages would best help her growing pregnant body get the necessary nutrients.
"What we want to do is give the body just enough energy so that it performs well," says Koff, who recently released a new book Mom Energy: A Simple Plan to Live Fully Charged.
And that includes everything from choosing quality foods to avoiding calorie counting.
Still confused? Lucky for us (and you!), Koff shared her top five ways to eating healthy while pregnant to give you a clearer picture.
Check them out below.

Be a Qualitarian. Yes, there will be cravings. Yes, fatigue and managing an ever-expanding waistline may have you grabbing quick food fixes. Yes, your body may be averse to anything green, and you may want to live on white food. But, no matter how tired you are or how unsettled your stomach feels, remember that every bite you take in is building part of your baby and rebuilding you so it's critical that every bite be the best quality possible.
This means choose organic, non-GMO, whole foods without chemicals. Craving something sweet? Grab a Nature's Path granola bar to satisfy and have it with some nuts; or spread some Nuttzo or Justin's Nut Butta on a banana; or eat a Stonyfield Farm organic plain Greek yogurt with peach slices and coconut shreds.
Pit Stop vs. Fill Up. You and your baby both need a regular supply of energy. Unfortunately the body isn't designed to get all of its nutrients at one point and then use them when needed. Rather, any excess gets stored away as fat and becomes less accessible. And, both of your bodies will cry out for more energy a few hours later anyway.
Think of your body like a race car and plan for a food pit stop every three or so hours. This is key early on during your pregnancy because too much food at one time may overwhelm and irritate your stomach, and in turn baby, which later could result in reflux, pressure on the belly/bladder or fatigue.
Nutrient Balance vs. Calorie Count. Gone are the days of just looking at calories and saying "we need X number more of calories during pregnancy". What's best for you and the baby is to make sure that each of your meals is nutrient-balanced with proper portions of the macro (main) nutrients (carbs, protein, and fats).
For more details, please see my nutrition plan, which is available for a free download. It details which nutrients support optimal growth for baby and repair for mom.
Yes You Can… If you pay attention to the quantity and quality of the food you are consuming, you can have that ice cream you are craving. During pregnancy there are a lot of things that are off limits or that you just don't feel like having, so paying attention to this quantity and quality balance will make pregnancy feel less like a deprivation diet and more like a chance to get in tune with what you want. It will also give the baby exposure to new tastes. Research indicates that baby's first foods are the ones you consume when he/she is inside of you.
Eat to recover. Now is the calm before the storm (even though on certain days and trimesters it may not feel so calm). Choose foods and beverages that help the cells recover (e.g., reduce stress) including organic whole grains that are rich in magnesium or coconut water and avocado which are great sources of potassium, which is key to bringing water into the cells to hydrate them so they can work easier and more efficiently.