Selma Blair: I'm Seriously Sleep Deprived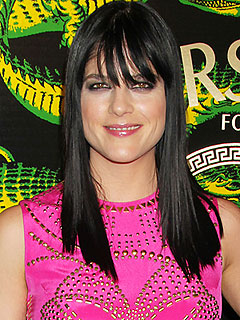 Dave Allocca/Startraks
New mom Selma Blair is in the midst of baby bliss, memorable milestones — and a serious lack of shuteye.
"It's exhausting. If I could sleep more, I would be the happiest woman in the whole world," the Dark Horse star, 39, told PEOPLE at the Versace for H&M fashion show on Tuesday in New York City.
"I'm not sleeping and it's showing. But I'm so blessed … I am totally going to stop complaining."
Instead, laughs Blair, she has already devised an easy solution for her sleepless schedule. "I will just start to buy more makeup," she jokes.
Despite the late nights, being a mom to the "happiest baby" — 4-month-old son Arthur Saint — is simply "amazing," adds the actress.

"He smiled the first week. He rolled over and he's starting to crawl," she shares. "I'm so in love with him … He makes me happy every day."
Blair and boyfriend Jason Bleick have set up a "tiny" nursery for baby boy, which includes Jonathan Adler pieces.
However, family time is rare these days, as the fashion designer has been focusing on his heavy workload.
"He's out trying to work a lot. So when I get him, I'm so happy," says Blair. "He came with me to New York, so that makes this trip so amazing to get baby, Daddy … and Donatella Versace."
— Anya Leon with reporting by Jeffrey Slonim