Sarah Drew Celebrates Her Baby Shower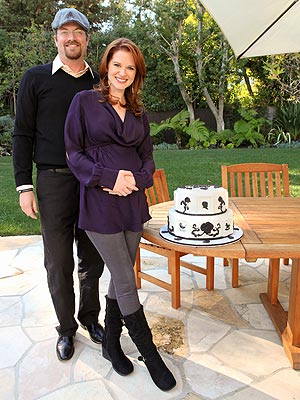 Anna Morente Photography
Welcome baby!
Sarah Drew celebrated the upcoming arrival of her delivery surprise — due in January! — with a shower held at her Aunt Rosa's home on Saturday in Los Angeles.
The Grey's Anatomy star, 31, and husband Peter Lanfer were joined by castmates Sandra Oh and Chandra Wilson, Grey's creator Shonda Rimes, as well as family and friends.
Designed by Jayneoni Moore and hosted by Daddy Scrubs, the black, white and purple shower centered around a vintage silhouettes theme.
Guests enjoyed a cake from The Sugar Fairy Bakeshop.

How did you feel after your baby shower?
I felt so incredibly loved. I was surrounded by all of my favorite women and was just so cared for all day. I felt so grateful to have such an amazing community of friends and family. It was so special to have my mom fly out from N.Y.C. for the shower, and I had the wonderful surprise of my aunt and cousins flying in from San Francisco as well.
What was some of your favorite parts?
Karl of Cut Arts silhouettes was the hit of the party. He made these beautiful silhouettes of all of my guests and they each took one home while a copy was put into a book for me. I spent an hour looking through all the pages of the book that night. It was so special.
My mom made a really special slideshow for me that featured baby pictures of myself and Peter, along with pictures of us dating, to when we married to now — it was amazing! And The Sugar Fairy Bakeshop made the most gorgeous cake I've ever seen. It was so delicious.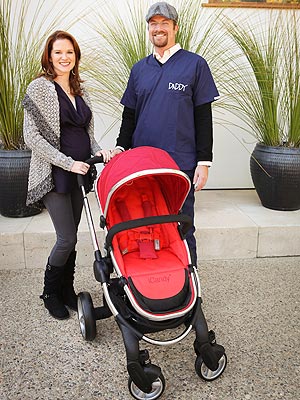 Anna Morente Photography
Why did you decide on a delivery surprise?
There are so few surprises in life that are really worth looking forward to, and we decided this is one of them. We were excited to be surprised.
I also thought it would be a good idea to wait to find out because I am a control freak by nature. I'm about to walk into a chapter of my life where I have no control over anything anymore, and I figured I'd ease myself into it by not allowing myself to plan for the gender of the baby. I'll just go with it when the baby arrives. It's good training for me!
You sang "Forever Young" by Bob Dylan at your shower and dedicated it to your baby. What inspired you?
I heard a version of it on Sons of Anarchy right at the beginning of my pregnancy. I fell in love with it and couldn't stop crying every time I listened to it. There are so many blessings in the lyrics of the song, and I just wanted to bless my baby with those words.
I had my dear friend Kate Kilbane learn the song on the guitar and play and sing it with me. It was such a sweet moment.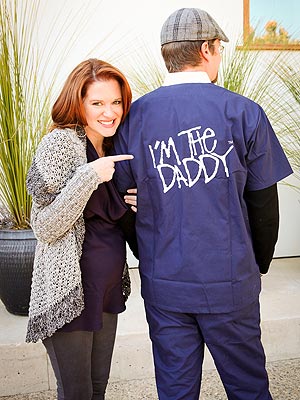 Anna Morente Photography
What were some of your favorite gifts from the shower?
I was overwhelmed by the gifts I received. I was truly "showered" with gifts at my shower. I was so excited about the iCandy stroller! It's fantastic! Also, up until the day of my shower I wasn't sure if I'd want to use cloth diapers, but Happy Heinys gave me a whole set of cloth diapers and now Peter and I are really excited to try them out! We also got some awesome scrubs for Peter from Daddy Scrubs. He's so excited to wear them when our little one makes his/her appearance!
You're donating products from your shower to Baby2Baby. Why did you make that choice?
I went on their website to read about their mission and I just had to get on board. Peter and I have been so incredibly blessed with the resources to prepare for our little one, but there are so many new moms out there who do not have those resources.
Baby2Baby provides for these women, and since I've been given so much, I really wanted to give back. I'm so excited to be supporting this amazing organization.