Mariah Carey: The Twins Have Started Solids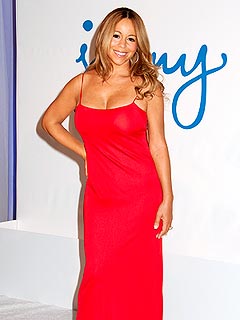 Janet Mayer/Splash News Online
As happy as Mariah Carey is with her weight loss reveal and new role as the Jenny brand ambassador, the singer couldn't be more proud of her 6-month-old twins, Morrocan and Monroe.
"They're eating their cereal now," Carey tells PEOPLE. "And they sit propped up in their little chairs. They each have one, in pink and blue."
And Mom is making sure they get off to a healthy start too.
"I'm trying to do more veggies than fruits," she explains.
"We use a Baby Bullet (to purée the food). I'm trying to cut down on all the sugar. You'll make them happy with applesauce, but they do like zucchini."

Now that they're six months, the twins' personalities are beginning to emerge — along with some new skills.
"Roc is playing the drums," Carey says. "When [husband] Nick [Cannon] plays a beat, Roc will just hit in time with him. I call him 'Roc Star'."
"Both have extremely unique personalities," notes the songstress. "Roc is very smiley and when he hears my voice, he perks up. Monroe loves melodies and likes to hear the different scales. She's very feminine. She is a prima donna!"
— Liz McNeil