Kelly Rutherford: My Kids Are So Different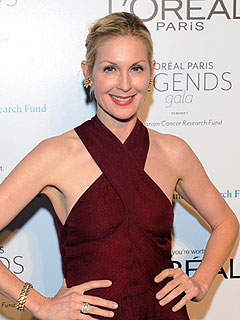 Eugene Gologursky
Boys will be boys, and girls will be girls!
"My son is all into superheroes, and my daughter's into ballet now," Kelly Rutherford told PEOPLE of Hermés, 5, and Helena Grace, 2½, during L'Oréal's Paris Legends Gala on Wednesday.
"My daughter is more into babies and dolls; She loves to bring them into the bed and put the covers over them. They're so different, boys and girls!"
However, one thing the Gossip Girl star's kids agree on are books.
"Oh my gosh, they're into a lot of books," Rutherford, 43, shares. "We're reading Press Here [by Hervè Tullet], it's all these dots that go all different directions on the page."

Talking to reporters, Rutherford accidentally referred to her son as her brother, whom she says are a lot alike.
"I always call them each other's names, because my younger brother was like a son to me, in a way," Rutherford, the oldest of four siblings, explains. "You know when you have a little brother, you take care of him? My mother always used to say, 'It's like you became his mom.' Like I took over."
To maximize her time, Rutherford tries to make everything last a little longer, even clothes from her favorite kids' shops, J. Crew's Crewcuts and Baby CZ in New York.
"I buy them a size too big," Rutherford reveals, "and then they wear them for two years. It's great!"
The busy mother has one product that simplifies her life in unexpected ways: baby wipes.
"Yes, baby wipes make my life easier," she laughs. "I use them everywhere now. I keep them on-set to keep stains out of my clothes."
— Asher Fogle