Brandy: I Raise My Daughter with Honesty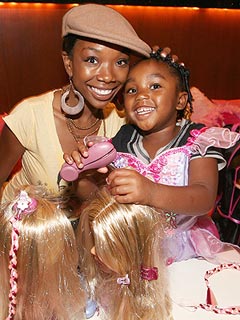 Jason Merritt/FilmMagic
When she was asked to serve as a mentor on a new reality singing competition for The Hub, Majors & Minors, Brandy used her own experiences to help relate to the contestants, ages 10-16.
"I was able to bond with them and crack jokes with them because I've had the experience of my daughter," she tells PEOPLE of 9½-year-old Sy'rai.
"Going in there with the intention of being honest and loving, and coming from a place of love, that's what they took with them and that's what they connected to. That's how I raise my daughter. I'm open and honest with her, and that's all I was with these kids."

Working on the series, which follows 12 kids competing for a record deal, also helped the singer rethink her own attitudes towards her career comeback.
"The show reminded me of how I started in this industry, of everything that I had gone through as a kid," she says. "These kids know who they are and really want to be an inspiration. Of course they want to be famous and want people to know them, but they also want to be influential and inspiring and write songs that matter."
"To work with people like that, it causes you to go, 'Oh my God, I need to rethink my priorities, I need to rethink my dreams,'" she continues. "I need to be just as fearless or get a little more confidence in my life."
Brandy's daughter has also served as a source of inspiration while she prepares to return to the music scene, often visiting mom at the recording studio and even beginning to show an interest in following in her footsteps.
"This girl can dance, she can sing," Brandy says. "She puts on talent shows. She's into music with my dad. She goes to this dance school every week. She definitely expresses herself in the arts."
"But I also got her in school and doing her smart thing, as well," she adds. "Her logic is amazing."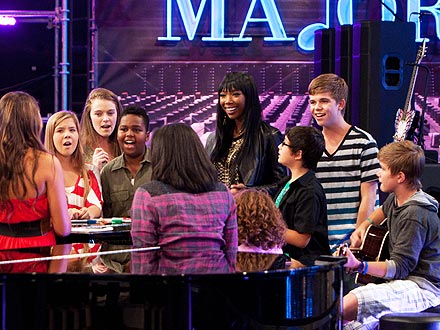 Rob Naples
While she works hard at giving her daughter a normal life, the singer also says she would have no problem supporting her little one in pursuing a music career if that was what she eventually wanted.
"It's my job as a mother to help guide her into making the right decisions," Brandy says. "But she's not here for me. She's here for her, to fulfill her own destiny."
"When she's really ready, when she's like, 'Mom I know what I want to do' – and I'll know when that is because I knew when my moment came – I will support her at every way," she says. "But if that never happens, that's fine too."
— Kiran Hefa