Eli Manning: Ava Is Already a Football Fan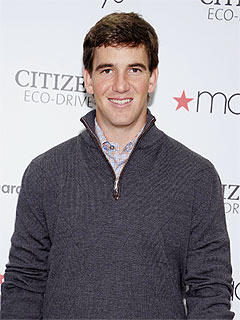 Michael Loccisano/Getty
This season Eli Manning's sideline cheering squad has grown: The New York Giants quarterback said that 7-month-old daughter Ava Frances loves to watch her dad play football.
"She's been to two Giants games, we won one, we lost one, but she enjoyed both of them," Manning, 30, told PEOPLE while promoting his two new custom designed watches for Citizen at Macy's in New York City on Tuesday.
"It's getting a little chillier now, so we'll see if she makes any more or not."
And while part of Ava's wardrobe pays tribute to her superstar dad, mom Abby tends to take her daughter's style in a different direction when dressing her for the events.
"She does have a little jersey, [but] it's not what she wore to the games — my wife gets her all dressed up," Manning shares. "She's always got a bow in her hair, and she's always dressed for the occasion."
Although "not quite crawling yet," Ava has — almost! — mastered another milestone.
"She's doing great … she's doing awesome," Manning says. "She's sitting up perfectly and not falling over too many times."
— Anya Leon with reporting by Kate Hogan