Family Photo: Neil Patrick Harris's Trip to Neverland
Neil Patrick Harris already admitted he likes to photographing his twins in silly costumes, so it's no surprise that the actor went all out for Halloween! The How I Met Your Mother star, 38, Tweeted a picture of himself along with longtime partner David Burtka and their 1-year-old twins Harper Grace and Gideon Scott dressed up for Halloween.
Harris, 38, donned a Captain Hook costume, while Burtka, 36, was dressed as Peter Pan. They outfitted the twins as Tinker Bell and Mr. Smee, the Captain's bespectacled assistant. Looks like the family would fit in well in Neverland.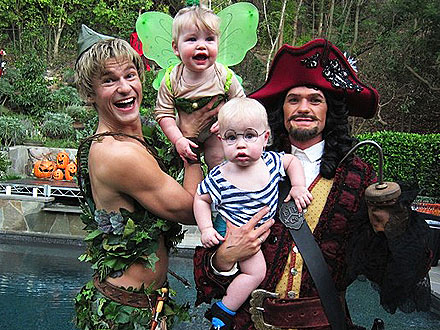 Courtesy Neil Patrick Harris
RELATED: Neil Patrick Harris and Elton John's Shared Surrogacy Secret