Ali Larter: Teddy Is the 'Light of My Life'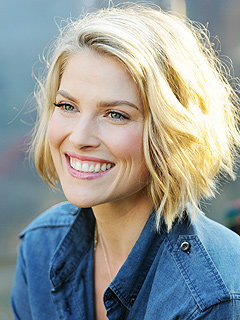 Carlos Delgado/AP
Ali Larter has finally heard the sweetest music to her ears: 10-month-old son Theodore Hayes's first word.
"He actually said, 'Mama,' this morning! I started jumping and just grabbed him and kissed him all over. It was so sweet," the actress, 35, tells PEOPLE during Glad's One Bag Program tailgate on Saturday in Los Angeles, Calif.
These days, adds Larter, even her "sweet little boy's" smallest accomplishments have been a great source of celebration.
"It's really exciting," she explains. "He's the light of my life and I couldn't be happier."

Since welcoming her son, Larter has worked to regain her body after baby by integrating family into her fitness routine.
"I hike [with] my baby probably four or five nights a week. I don't know if it's because I want to hike or to get away during the witching hour, but it's something that calms him," she shares, adding she also stays "very active" with husband Hayes MacArthur.
"I've always been very athletic, but I say this over and over again: Moms just need to forgive themselves. You just do the best that you can. Period."
And the family that works out together, trick-or-treats together; The trio buzzed their way through the neighborhood as bumblebees on Halloween.
Larter's inspiration? The family's newly planted garden — and its inhabitants!
"We actually just put in a garden in our yard and lots of lavender. There's a lot of bees all over, and I believe in loving the bumblebees," she says. "I saw the bee documentary [Vanishing of the Bees] and I thought, 'This is going to be our little family's [thing].'"
With plans to "try to do a hive" to make their own honey, learning to "embrace nature on every level" is a lesson the new mom hopes to instill in her baby boy.
"I'm never going to be one of those moms that puts hand sanitizer all over my kid," Larter says. "I mean, hopefully, he's going to be dirty in the playground or in the streams, hiking in the mountains. I want him to always be a child of nature."
— Anya Leon with reporting by Jessica Wedemeyer