Family Photo: The Rycroft-Strickland's Bedrock Baby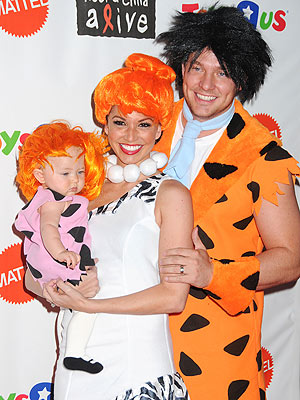 Byron Purvis/AdMedia/Retna
It's Fred, Wilma and Pebbles Flintstone!
Melissa Rycroft, husband Tye Strickland and daughter Ava Grace dress the part at the 18th Annual Dream Halloween, held Saturday at the Barker Hangar in Santa Monica, Calif.
The event benefitted the Children Affected by AIDS Foundation and Keep a Child Alive.
"There are times when I want to sit outside on my patio and scream going, 'Oh my gosh!'" the former reality star, 28, told PEOPLE recently of parenting her 8-month-old.
"But all it takes is one little smile from her and I go, 'Well, there you go. It was totally worth that little temper tantrum.'"
RELATED PACKAGE: PEOPLE.com Halloween Party