Trainer Valerie Waters' Tips for Keeping Kids Active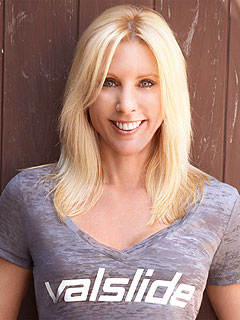 Courtesy Valerie Waters
With summer over and fall in full swing, it may seem more of a challenge to convince children to head outdoors for playtime.
But for parents looking to keep their kids active in the cooler months, Livestrong.com advisory board member Valerie Waters says the solution may be closer to home than it seems.
"If you want your kids to be active, then you need to be active," she tells PEOPLE. "Kids really do mimic what Mommy and Daddy do."
In addition, she advises parents to not use the increasing cooler temperatures as an excuse to avoid working out.

"If it's chilly out, you don't say, 'Oh, let's just stay inside and watch movies.' Say, 'Let's bundle up and go play,'" she adds, recommending trips to the park as an easy solution, where families can do basic activities like running around or playing tag.
But parents should also remember that these sessions shouldn't take the place of their own fitness routine.
"It's important to set the example of mommy goes for a run now, or daddy goes to the gym," says Waters. "You still do your exercise program because you're setting an example."
Though parents should encourage kids to get active from as young an age as possible, Waters also stresses the activities should be more about movement than excelling at athletics.
"Sometimes kids' first memory of fitness is failing," she says. "Whatever you're doing, you want it to be a win. It should be something fun."
Instead of traditional sports like baseball or soccer, Waters suggests more simple tasks, like kicking a ball and running towards it.
"The idea is that they keep moving," she says. "And for the parent, kicking the ball and running over to it, that's interval training. That as a trainer is what we want our clients to do, go faster for a shorter distance, then rest."
As kids get older, it remains the parents' continued responsibility to keep introducing their children to new activities, and joining in with them whenever possible.
"Not all of them stick and not every kid loves everything," says Waters. "Some kids respond right away, some need a little more time, and some just need something different. But what I see most is that a parent just needs to be with them and encourage them. Participate with your kids because they want you with them."
— Kiran Hefa