Cheryl Hines: My Daughter Is 'Not Well-Behaved at All'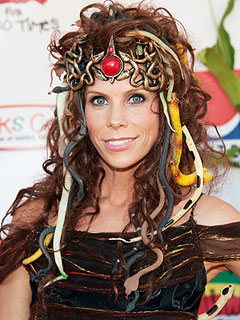 Amanda Edwards/Getty
Cheryl Hines adores her daughter Catherine Rose, but admits she's far from perfect – even in Mommy's eyes.
"She's not well-behaved at all," Hines, 46, told PEOPLE Sunday at the Camp Ronald McDonald for Good Times Halloween Carnival at the Universal Studios Backlot in L.A. "She's wild."
The Suburgatory star uses a recent incident involving makeup to describe how her little girl, 7½, gets out of hand.
"She took a bath the other night, and when I went in there, the bathtub was covered with my makeup," Hines explains, adding that her daughter immediately denied having anything to do with the mess.

"I said, 'It's only you and me here, and it wasn't me.' And she said, 'I don't know how that happened.'"
Hines, who says her daughter still hasn't "'fessed-up to doing it," also worries about her in social situations.
"My main concern is that she's true to herself and isn't influenced by other kids," Hines says. "I want her to make decisions that are right for her. I feel like right now the kids are getting cliquey. I don't love that. I'm trying to pin it down to avoid it being an issue later."
In the end, the actress confesses she's really bad with punishments.
"The problem is I tell Catherine how cute she is everyday and how much I love her," Hines says of her only child with ex-husband Paul Young.
"So when she misbehaves, she says something that she knows will make me laugh. Then it softens me up a bit, and I think, 'Who cares if there's makeup in the bathtub?'"
— Dahvi Shira