Natalie Morales Makes Her House a Family Home
Three years ago, Natalie Morales found herself in the midst of complete chaos.
Not only was the Today show anchor on the verge of welcoming her second child with husband Joe Rhodes, but the couple were also rushing to wrap up the complete remodeling of their Hoboken, N.J. home.
"We gutted everything … walls, bathroom, everything is different. It was beautiful before, but dark and heavy and traditional," Morales, 39, tells PEOPLE of the family's brownstone.
"This was my other baby. We were on a deadline. I was all hormonal and upset. [Everyone] had to get out of here before Sept. 5 — I would not have a newborn in an [unfinished] house."
Fortunately, the deadline was met — Luke Hudson was born only four days later — and the family of four, including elder son Josh, 7, have been enjoying their renovated home ever since.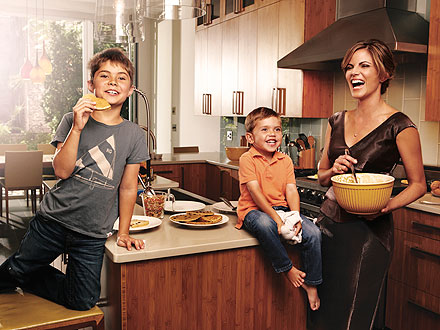 Brian Doben

"I had to buy all new furniture. My style before was antique, [but] since this house is old and historical, I wanted to mix modern and the old things," Morales shares.
However, most important to the mother-of-two, was keeping everything child-friendly — and kid-proof!
"No white couches! No way. All my couches are specially treated so things bead off," she reveals. "It was important to me that everything is really usable [and] nothing that I would care if it gets battered. When you have young boys, you can't expect to have nice furniture."
But while the house is catered to the kids, the family tends to find themselves spending their time together in one room: the kitchen. "The kitchen is the favorite room, by far. It's the heart of the home," says Morales.
And, for the news anchor, it was also a space she knew all too well, even long before it was built.
"I brought my architect to the Today show kitchen and said, 'I want this in my house!'" she explains of the matching faucets, backsplash and hardware. "I love the kitchen there so much, I was like, 'I want that.'"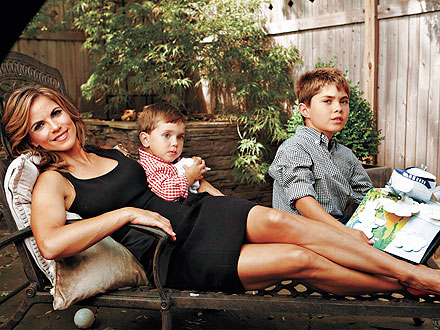 Brian Doben
From the mounted television to the bright, open space, the boys love everything about the kitchen — that is, until it comes time to eat.
"It's tough because my kids are so finicky and all they like are white foods," Morales admits. "Vegetables they give me the hardest time with, [but] I got it down to carrots, cucumbers and crunchy lettuces."
And when all else fails, Morales has no qualms about hiding the healthy ingredients!
"It's what you attempt to feed them and how many times you give it to them. I give them peas, they pick them out," she says. "But I do like whole wheat banana bread with protein powder in it. I believe in tricking them into eating things. It won't hurt them as long as it's healthy."
The brotherly bond between Josh and Luke extends far beyond the dinner table, much to Morales' delight.
"[Josh] is such a protective older brother. I thought with the five-year age difference, they wouldn't be this close," she shares. "It's a good difference, there's no competitiveness. When they get to high school, they'll be far away. I didn't plan that, but I got lucky."
— Anya Leon and Charlotte Triggs