Josie Bissett Teaches Kids to Boogie with Second Book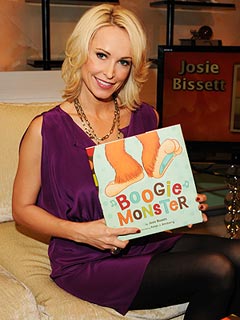 Albert Michael/Startraks
After the success of her first book, Tickle Monster, actress and author Josie Bissett wanted to keep the fun coming with the second installment in her children's series, which led her to dance.
"Dance to me is an expression of who we are," she tells PEOPLE. "I love dancing, my kids love to dance. I think it's just another way for children to learn they can be themselves."
Cue Boogie Monster, Bissett's new book which comes packaged with a CD and a pair of "Boogie Legs" (a fun of pair of socks) she hopes will inspire children to explore movement.
"My whole theme of the book is there's no right way to dance," she says. "It's just to let go and be free."

Having been inspired to write children's books by her own kids (12-year-old Mason and 9-year-old Maya) the actress also looks to them as a gauge for her efforts.
"My daughter comes to all of my book signings and dances with the Boogie Monster," Bissett told PEOPLE at the Boogie Monster book signing at New York City's toy store FAO Schwartz on Saturday.
"We have a Boogie Monster life-size costume that comes and the kids dance with him. Maya really gets into it and likes to help and be part of it all."
So much so that Bissett's next project — after the completion of her third Monster book, Munchie Monster — will actually be a collaboration between her and her daughter.
"She's a great little writer," Bissett says. "She was playing in a park and I got the idea from her playing and I said, 'We should do it together,' and she was really excited about it."
"My kids definitely give me all of my ideas," she continues. "I'm always listening to what they talk about, how they play, what they play. Their imaginations are so incredible."
But while her children and her career sometimes overlap, Bissett, who also stars on ABC Family's The Secret Life of the American Teenager, says being a mother remains her No. 1 priority.
"Any job I choose has to work with my schedule with my kids," she says. "I don't want to miss any of my time with them."
— Kiran Hefa