Review: Maxi Cosi's Pria 70 Air Convertible Car Seat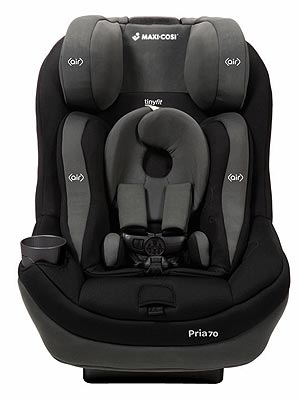 Courtesy Maxi Cosi
If airlines could take a cue from Maxi Cosi's car seat manufacturers, we'd all be a lot more comfortable in the friendly skies.
The company's new Pria 70 Air Convertible Car Seat ($250) has a space-saving design that gives you and your little one more room to stretch your legs — it's like first class seating for your vehicle without an outrageous pricetag!
Things We Like:
The Pria 70 Air Convertible Car Seat is the only seat you'll ever need to buy — it's designed to safely fit your 4-lb. newborn until he or she reaches 5 years of age.

For the littlest babies, the seat's TinyFit system is a small insert that cuddles your rear-facing infant until he or she fills out the larger seat at 18 to 22-lbs (the seat faces forward to fit children up to 70-lbs).
And the Air Protect system cushions your child's head and body, giving your precious cargo extra protection during side impact collisions. Our tester visibly had more room to stretch her legs in the Pria 70 versus other seats we've tried. That's thanks to the seat's space-saving deep recline design (with three reclining positions) that miraculously also give the person sitting in front of the rear-facing car seat more room to move around.
Complete with a large cupholder and additional comfort pillows, this seat is one luxurious place for your cutie to kick back. If only it offered beverage service…
Car seat installations have been known to cause family feuds — but the Pria 70's color-coded system is easy enough for even the most brain-dead parents to figure out. Its OneClick LATCH Connectors keep the seat firmly in place, preventing side-to-side movement.
Not only does the soft and squishy car seat covering (padded with polyurethane underneath) keep your little passenger snug, but it is impermeable to projectile vomit, too! Yep, we tested it. The polyester material easily wicks away sticky stuff and is machine washable for those especially messy road trips.
Things We Didn't Like:
We found the harness sometimes difficult to buckle and unbuckle, but we're willing to put forth a little extra elbow grease for a car seat that's this safe.
Moms & Babies Rating:
With special features galore for baby and several brilliant bonuses for parents, the Pria 70 Air Convertible Car Seat makes hitting the road a more enjoyable (and comfortable!) experience.
— Amy Jamieson