Hilary Duff on Pregnancy: These Boobs Are New!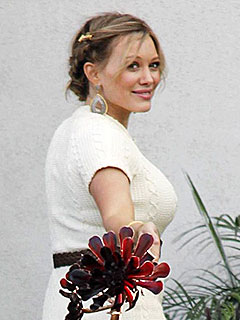 Splash News Online
A glowing Hilary Duff visited Chelsea Lately Monday, revealing that her pregnancy has been smooth sailing so far — and it's not just a baby that she's welcoming.
"These are new," she joked, gesturing to her breasts on the show. "These are new and different so that can be a good and bad thing."
Luckily the Devoted author, 24 — who's expecting a baby boy with husband Mike Comrie — has missed any pregnancy pitfalls.
"Everything's been really easy," she added. "I didn't get sick."
Of course, Duff wasn't spared the typical Chelsea Handler ribbing. "How did you get pregnant?" the E! host teased.
"Everyone thinks I'm such good girl," Duff quipped back, "but I figured it out."

— Rennie Dyball