Spotted: Reese Witherspoon and Ava – Good Genes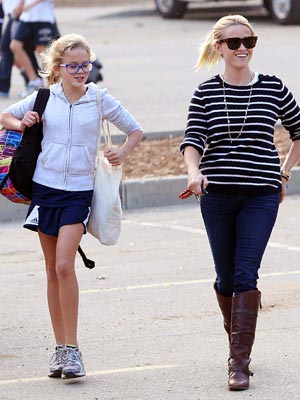 Fletcher Jones/Broadimage
Love her funky purple frames!
A beaming Reese Witherspoon stays in step with her look-alike daughter, 12-year-old Ava Elizabeth, after picking her up from school Wednesday in Los Angeles.
Glad to see that the actress, 35, is recovered from her black eye and cut forehead after being hit by a car while jogging last month.
On Monday, Witherspoon appeared at Elle magazine's annual Women in Hollywood event, where she honored pal Jennifer Aniston with an award for her achievement in film.
She and ex-husband Ryan Phillippe are also parents to son Deacon, 8 this week.