Michelle Obama: I 'Confiscate' the Halloween Candy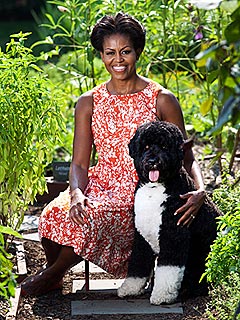 Lawrence Jackson/Official White House Photo
With Halloween less than two weeks away, kids country-wide will soon be satisfying their sweet teeth with bags full of candy.
Among them? Michelle Obama's daughters Malia, 13, and Sasha, 10.
"I don't want them to worry about how much candy they eat on Halloween," the First Lady said during a roundtable discussion held Tuesday at the White House.
However, the "Let's Move" project founder ensures that the collection of candy doesn't quickly turn into a free-for-all for her girls.
"I let them hang out with that bag maybe a day or two, and then I confiscate it," she explains.

"Because it's like, you just don't need to have this in your room; it's not good. The temptation is too great."
Her stance on supporting her daughters' occasional indulgence in sweet treats is simple: work hard so you can play hard.
"Our philosophy is if you make good choices every day, then when it's time for the holidays and the fun stuff and the birthday party, then you don't have to worry," Obama, 47, shares.
The balance between healthy habits and delicious desserts will continue through the holiday season for the Obama family.
"Around the holidays and when they go out, I don't want them to have to worry about that," she says. "That's why it's important for us to have balanced meals, to get all those vegetables in, when we're [at home]."
However, despite the surplus of sweets at the dinner table during the upcoming celebrations, Obama jokes it's not necessarily the children who need to practice moderation!
"What I find for the kids … there's so much excitement around the holidays. Kids are out playing. They've got cousins over. They don't even want to sit down really to eat," she laughs.
"It's the grownups. We're sitting around the table all day. The question is, how am I going to deal with the holidays?"
— Anya Leon