Michael Bublé Wants Children – When His Wife Is Ready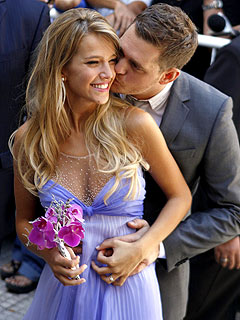 Natacha Pisarenko/AP
Michael Bublé is ready to sing lullabies.
The Canadian crooner who wed Argentine actress Luisana Loreley Lopilato de la Torre in March – and celebrated again in May, wants to start a family as soon as his wife is on board.
"I've said to [Luisana] a million times I'd love to have kids," Bublé, 36, tells ET Canada.
"But I always say to her when you're ready – when you feel like you've lived and you've partied and done all the things you want to do. When you've worked your butt off, then tell me."
While Bublé is happy to wait until his 24-year-old bride is ready, he can't help envy his other friends who have children.

Says the singer: "All my friends have babies so every time one of them says, 'Guess what, you're going to be an uncle,' part of me is so happy for them and the other part of me is jealous."
— Alla Byrne