Mariska Hargitay 'In Shock' About Son's Adoption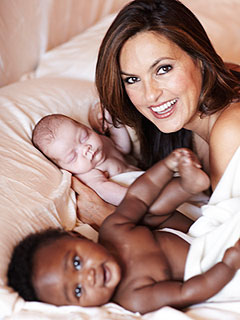 Antoine Verglas
After unexpectedly welcoming son Andrew Nicolas, Mariska Hargitay encountered a problem — she had no baby clothes for a boy.
"It was so hilarious. My godson was born eight months ago and I gave all of [5-year-old son] August's things to them," she tells PEOPLE with a laugh. "We came home with our baby and almost nothing. Friends are coming over with onesies."
As the process to adopt 6-month-old daughter Amaya took a year, the Law & Order: SVU star, 47, and husband Peter Hermann figured they'd get a head start on a third child, and filed again over the summer.
The couple — already fully vetted by their agency after their prior adoption — were shocked to find their application chosen just days later.

"It was all very quick. It was a week that changed our lives," Hargitay — whose celebrity status was not revealed in her paperwork — notes. "We're still in shock. What did we do to get so lucky?"
Now that Andrew, who was born prematurely in July, is ensconced in his own burgundy and gold nursery — Mom vacated her office to make space — "we're getting all squared away and settled," the actress says. "I'm so happy he's home."
For more on Mariska's surprise adoption and additional photos, pick up the latest issue of PEOPLE, on stands Friday.
— Charlotte Triggs