Sarah Michelle Gellar: Charlotte Loves Starbucks!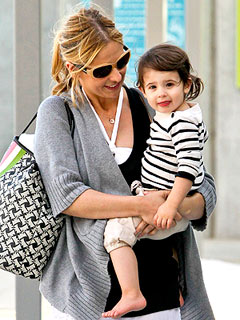 Spot/Poersch/AKM
Sarah Michelle Gellar and husband Freddie Prinze, Jr. both love their wake-up cup o' joe.
But no one is in need of the daily caffeine more than their 2-year-old daughter Charlotte Grace.
"My husband and I both like our coffee in the morning and now [Charlie] has taken up to it," the Ringer star, 34, revealed during a Thursday appearance on Conan O'Brien.
"Everything is Starbucks. [She says,] 'We need to go get cacky?'"
Despite not allowing her daughter to actually indulge in the drink, Gellar understands how, for fellow customers, looks can be quite deceiving.

"Child Protective Services will get called one day because she likes to get water, but in a hot cup so it looks like she's drinking an espresso!" she laughs. "They give her those little cups and then she runs around the store."
And while the mother-daughter outing is usually a morning ritual, Gellar and Charlotte have been known to make a few evening exceptions!
"We'll be driving home at six o'clock at night and she'll be like, 'Mama need cacky?'" the actress says.
Vodpod videos no longer available.
— Anya Leon