How Michelle Obama Tries to Make a Normal Life for Her Kids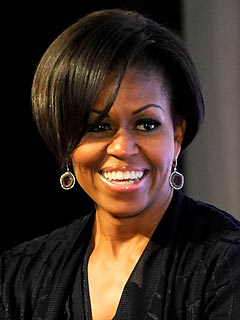 Mark Sullivan/WireImage
Her circumstances are extraordinary. But for Michelle Obama, the challenges of parenting will be familiar to moms everywhere.
"Like any mother, I am just hoping that I don't mess them up," the First Lady, 47, admitted with a laugh Tuesday at a White House roundtable discussion about motherhood and her "Let's Move" project to fight childhood obesity.
"They're terrific girls," she says of daughters Malia, 13, and Sasha, 10. "They're poised, and they're kind, and they're curious … But you have to carve out space and hold it sacred for them."
That means getting them out of the White House bubble, going on vacations, and paying attention to their lives despite the often overwhelming spotlight on their father's.

"What's true for you all in your homes is the same for us," the First Lady says. "It's really the interaction that we have as a family that makes it feel like home. It's sitting down at the dinner table and having Barack's day be the last thing anyone really cares about."
Mrs. Obama also revealed to PEOPLE at the event that she and her husband closely watch their children's TV habits — President Obama has a particular aversion, it seems, to Keeping Up with the Kardashians. And they are allowed to use their computers mostly for school work, not for idle chatting with friends.
"Sometimes I have to come into the room. It takes a couple of times to be, like, 'That didn't sound like math to me,'" she said. "They can have limited access on the weekends, and then I try to fill up their weekends with a lot of stuff like … sports and games. It's like, 'Oh, it's bedtime. So sorry you didn't get your TV time in.'"
The First Lady does find time for herself, too, and focuses on exercising — which is a theme she's been pushing for kids through her "Let's Move" program.
"It's vanity for me. That's the start," she says. "It's like a picture in the newspaper that looks crazy is my motivation. It's like, 'Oh my God, is that me?' … So, that can be motivating. And it was even before I was here. It's like, how do I want to look? How do I want to feel? It's just personal."
But beyond vanity, there's the health issue, too. "I'm now at that point where if I'm not eating [right] or exercising, I feel badly. So, I've gone from vanity to now necessity."
— Tim Nudd