Hilary Duff Confirms: I'm Expecting a Baby Boy!
Hilary Duff's gut instinct was right — she is having a boy!
The singer/actress, 24, revealed the sex of her first child with husband Mike Comrie on The Ellen DeGeneres Show in an interview set to air Monday, saying, "I had a feeling it was a boy the whole time."
After many false alarms, Duff said, she and Comrie couldn't believe it when they found out she was pregnant.
"My husband makes this joke that I think I'm pregnant like 12 times a year," she told Ellen.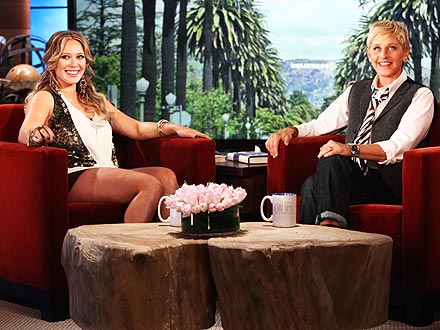 Michael Rozman/Warner Bros.

"So when it actually happened … he was in the shower and I just held up the test and I was like, 'Oh my God.' And he was like, 'Ahh!' He was soaking wet. We were just a mess and started crying. It was really exciting."
Duff says her pregnancy has been "super easy," but still leaves her feeling strange.
"No sickness, but crazy dreams," she said. "It's kind of like a little alien has taken over your body. You just don't quite feel normal."
Their baby is due early next year.
— Liz Raftery