Sharon Osbourne: My Grandchild Will Get Away with Everything!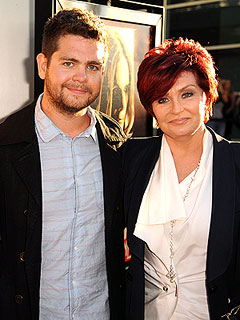 Jeff Kravitz/FilmMagic
Jack Osbourne admitted he's "a little nervous" to become a dad when Lisa Stelly — his fiancée of less than two weeks — gives birth, but his mom Sharon doesn't seem to have a fear in the world about becoming a grandma.
"Our family is growing, and I love that," the mom of three said Wednesday on The Talk.
"It's just a blessing, it's a joy. They're going to have a baby in April. Yes!"
Sharon, 59, who says she will let her grandchild get away with "everything," explains, "That's what comes with being a grandmother. You can spoil, you can indulge, and then say, 'Okay, now let your parents be the ones to teach you right from wrong. I'm not. What do you want? Have it!'"

In return for showering her new little one with treats, Sharon expects her grandchild on the way to refer to her by names of choice.
"The baby's going to have to call me Shazza or Misses O," she says. "In London, that's Sharon, the abbreviation is Shazza. They call you, 'Shazza.' 'Hello Shazza!'"
As for Jack, 25, aside from the obvious nerves, he is "so excited," Sharon says. "[The baby news] was just overflowing from him … His eyes were all teary [from joy]."
Vodpod videos no longer available.
— Dahvi Shira