Rachel Zoe Approved: New Nursery Design Tool from Fisher Price and Sherwin Williams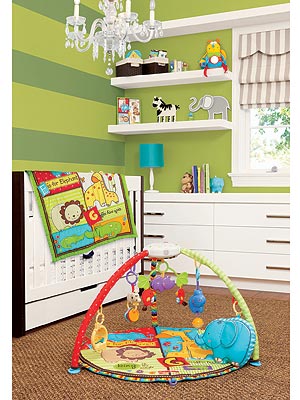 Courtesy Fisher Price
Rachel Zoe may be a celebrity stylist by trade, but she also loves to dabble in interior design, especially when it comes to son Skyler's fabulous nursery.
That's why she joined Fisher Price and Sherwin Williams to help unveil their new Room to Bloom online tool, which helps parents create stylish and affordable nurseries with just a click.
"Now that I'm a mom, I have a whole new perspective on what it means to maintain my own individuality and extend my design tastes into Skyler's nursery," said Zoe.
"[And] the 'Room to Bloom' tool is amazing because it gives expectant moms inspirational direction for nursery design and organization that will help them stay focused, have fun and create a nursery that's seriously major."

To get started, just choose a baby gear collection (My Little Snugabunny, Coco Sorbet, Luv U Zoo), floor finish (wood or carpet), wall pattern (stripes, squares or solid) and paint colors.
Once you're done, you can save your design and share with others. Either way, you'll be ready to shop and create your dream nursery.
For more information, go to fisher-price.com.