Emily Procter: Pippa Is Sneaking Snacks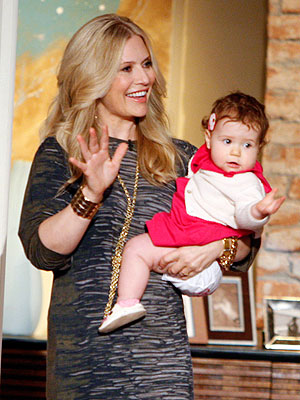 Lisette M. Azar/CBS
Emily Procter's secret stash of goodies for Philippa Frances has been found! The sweet treats were discovered by none other than the 10-month-old herself.
"[Pippa] had her first sort of fiendish behavior the other day," the actress, 42, shares during a Wednesday appearance on The Talk. "We started giving her these things called Puffs."
While the CSI: Miami star knew Pippa was a fan, she wasn't aware of the measures her daughter was willing to take in order to receive her snack.
"I [was] in the kitchen [doing] the dishes and I thought, 'She's really quiet. I wonder what's going on in there,'" she says. "I looked and she had gotten under the table, stolen the Puffs, knocked the lid off and was just sitting there eating."

And while Procter thought the incident was a one-time occurrence, Pippa clearly had other plans. "The next night I thought, 'Let me try this again and just see if that was some mistake,' and she did it again!" she laughs.
Enjoying motherhood — calling it "the best job I've ever had" — Procter reveals boyfriend Paul Bryan is completely hands-on when it comes to raising their daughter. So much so, in fact, that the new dad is happy to handle even the dirtiest of diapers.
"He didn't really get the concept that [babies] start to go and they just need a minute," Procter explains. "There was one time, in the middle of the night, and [Paul and Pippa] had been gone for awhile and I thought, 'I should go check.'"
However, the scene Procter encountered in the nursery was one that even she wasn't prepared for!
"At the end of her changing table is a bookcase and she had pooped into the bookcase. I look at Paul … and he's like, 'Oh, no, I got it!' and he's got a dry paper towel and he's just rubbing it in," she recalls.
"I looked at him and I said, 'That's not cleaning. That's actually antiquing!"
— Anya Leon