Bridget Moynahan Teams Up with 77kids to Promote Literacy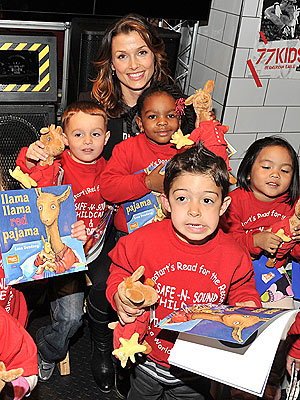 Stephen Lovekin/WireImage
Reading is a big part of Bridget Moynahan's routine with son John Edward Thomas.
According to the Blue Bloods actress, her 4-year-old is already quite the bookworm.
"I have pictures of him looking at books and flash cards when he's just sitting up," she revealed.
"I have one picture where I was reading a book on Buddha and Buddhism and his face is in there, looking at the words."
That's why Moynahan jumped at the opportunity to become the 2011 Ambassador for Jumpstart's Read for the Record.

And on Wednesday at the 77kids NYC Style Lab in Times Square, the celeb mom joined parents all across the country when she read Anna Dewdney's Llama Llama Red Pajama to a group of local children to promote the importance of literacy among young children.
For more information on the Jumpstart's Read for the Record initiative, go to jstart.org.
TELL US: What book do you love reading to your tots?