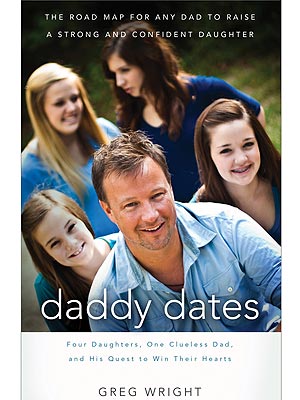 Courtesy Thomas Nelson
For a self-described man's man like Greg Wright, finding a way to connect to his four daughters – Victoria, Hailee, Whitney and Madison – posed an interesting challenge, one he found many fellow fathers were facing.
"I was running into an awful lot of other dads in my same situation, with multiple girls," he tells PEOPLE. "I kept finding more and more guys in my same circumstance that didn't know what to do."
Having developed a way to tackle the issue within his own family, Wright was inspired by his run-ins to put his method into a book, Daddy Dates: The Road Map for Any Dad to Raise a Strong & Confident Daughter, in which he encourages fathers to ask their daughters out in order to spend quality alone time together.

"The constant direction is one-on-one time," he says. "My job is to be there specifically for them, and completely leave myself in the car when I go do this. The more selfless you can become as a daddy in that situation, the more you'll be able to really, really bond with your little girl."
To ensure he and his daughters found ways to relate, Wright says he realized he had to put aside all of his interests in favor of his girls'.
"Take everything that you like, you enjoy, add in the way that you think, and put them into a little box, and throw it away," he says of what fellow fathers should expect to do on these dates. "If you're just jonesing for a quick peek at the ESPN screen in the corner of the restaurant, it's going to deemphasize the importance of your moment with her."
In addition, Wright says daddy dates can also serve the dual purpose of educating girls about dating in the real world as they get older.
"My motivation became bigger than just simply spending time alone with them. It was also about teaching them what it should feel like if they're being asked out," he says. "I realized I was setting a precedent, so therefore I needed to up the game a little. If I'm going to approach this as 'Here's what it should feel like on a date,' you do formally ask them out, you do open the door, you do plan the date around them."
While he was initially hesitant to enact this strategy, fearing he and his daughters would find little common ground, overtime, "the cooler it became and the less afraid of how the evening would go I became as well," Wright says. And that is what he hopes other fathers will discover as well, how easily a close relationship can be had.
"I really hope to encourage dads, and to say, 'Dude, seriously, you are way better than you probably think you are or have been given credit for," he says. "The more you push towards your kids and deemphasize where you are and start dialing up where they are, that's going to resonate with them and create a magnetic relationship."
– Kiran Hefa