Kourtney Kardashian: How I Style My Men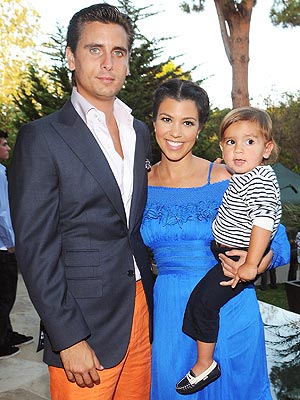 Albert Michael/Startraks
She's a perfectionista when it comes to her own fashion, but how does style guru Kourtney Kardashian (pictured left with her main guys on Aug. 19 in Santa Barbara, Calif. at sister Kim Kardashian's pre-wedding dinner) make the men in her life look good?
Luckily for her, they're already naturals.
"I love when guys are into fashion, I think it's fun," she told PEOPLE recently at the Sony PlayStation Uncharted 3 Mobile Half-Tuck Truck in N.Y.C.
"Scott and I go shopping together all the time and I'm like, what would I do if he hated to shop or didn't like fashion?"

Though she and longtime boyfriend Scott Disick love to peruse the racks together, her stylish beau seems to have no qualms about picking out his own garb.
"Even if I think I know what he would like, it's never right," she said of Disick's distinct style. "If I say, 'Oh this is so you,' he'll say, 'No I do not like that.' So I'm never right when it comes to him."
Instead, she focuses her passion for fashion on styling 21-month-old son Mason. "I dress [Mason] a little boho-preppy, like little moccasins, little vintage belts, Indian belts — I think it's all about accessories, even if he has a cute pair of sunglasses or he's wearing something simple," she said.
"The other day I put him in a Burberry scarf and it looked so [amazing], he was just wearing black skinny pants and a black T-shirt and black loafers but the scarf just made his outfit."
Mason and Scott aren't the only stylish men in the family, though; it sounds like it's in the Kardashian genes.
"My dad was also always into clothes and fashion and had his closet perfectly organized and my brother is the same way," she said. "So I think it's just the guys in our family."
— Kim Peiffer