Spotted: Liev Schreiber and Sons' Tribeca Trek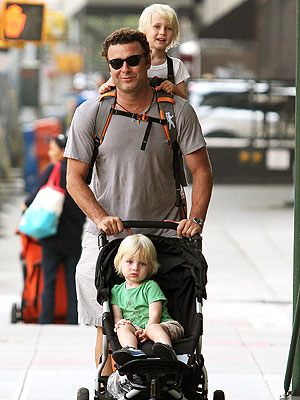 Tim/EaglePress
Hitchin' a ride!
Liev Schreiber got quite the workout Monday, toting son Sasha, 4, and pushing Kai, 2½, while out for a walk in Tribeca with fiancée Naomi Watts (not pictured).
The Dream House star, 43, recently spoke to More about her actor beau as a dad.
"Liev's moments with the children are amazing. The games just go on and on," Watts shares.
"I've always said that men are great in the moment, but not good in the planning, like, 'Is there milk in the fridge?' and 'Do we have diapers?'"
RELATED: Naomi Watts: 'I Wouldn't Have Been Focused' as a Young Mom