Review: Baby Jogger 3-in-1 POD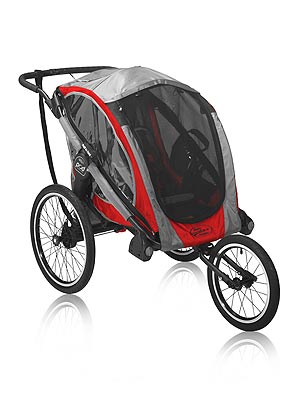 Courtesy Baby Jogger
Indiana Jones, eat your heart out!
In fact, even if you don't wear a fedora or carry a whip but like adventure, the 3-in-1 Baby Jogger POD ($500) is for you.
The rugged set of wheels can be used as a stroller, jogger or trailer for the back of a bike, so it gives a whole lot of bang for your buck.
Want to learn more? Check out our review below:
Things We Like:
Despite its hefty size, it folds compactly and conveniently with a quick tug of the handles.
The built in bug and wind/rain screens are great protection during bad weather and the adjustable handle allows for a comfortable push, with an easy-to-use hand brake.

Things We Didn't Like:
Although there's an ample room in the back for storage, it can be tricky to store a larger diaper bag. In fact, for longer rides, you will definitely need to carry your own supplies. And though it can fit two kids up to 100 lbs., the spacing is really more ideal for just one.
Moms & Babies Rating:
Hands down the pod is the perfect option for parents who enjoy some thrills. It's compact enough to throw in the back of the car and serves the needs of the hiker, jogger and biker. Let the adventures begin!
— Chelsea P. Gladden