Jennifer Garner: 'It Would Be So Weird to Have a Boy'
Raised with two sisters, Jennifer Garner would love for her daughters to have the same experience.
"Three girls is a great way to grow up," the pregnant actress, 39, says during an interview on The Ellen DeGeneres Show airing on Tuesday. "I'm one of three girls and my little sister is awesome, so I just want a Suzanna."
Even though Garner says "it would be so weird to have a boy," she also says the experience would be "cool and different."
But Garner also takes hubby Ben Affleck, 39, into consideration, acknowledging that it would be "fun" for him to have a boy because "he likes baseball and all that stuff."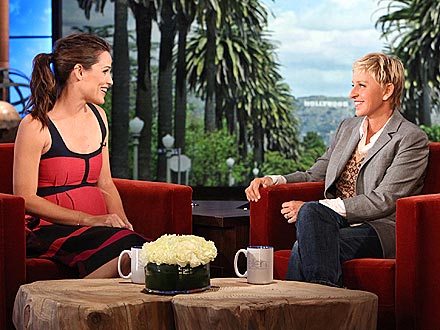 Michael Rozman/Warner Bros.

As for the duo's daughters — Violet Anne, 5½, and Seraphina Rose Elizabeth, 2½, "they don't really care about the gender as long as we name it what they want it to be named."
And if the girls have it their way, they could end up with a sibling named "Ralphie, Frankie, Minnie Mouse, Daisy Duck, or Rosemarie."
"Daisy Duck Affleck," Garner says with a laugh. "I can see us going that way."
— Dahvi Shira