Poppy Montgomery: Motherhood 'More Challenging' Than Acting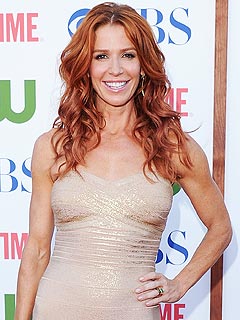 Jon Kopaloff/FilmMagic
When Poppy Montgomery left television behind in 2009, she did so with one goal in mind: to spend more time with her son Jackson.
"I had just had my son. I had been away so much for the first year of his life," the actress, 39, tells USA Today of her decision to step back from the spotlight following the end of her show, Without a Trace.
"I needed to take the time and actually be like mommy for a minute."
However, it didn't take long for Montgomery to realize that the demands of motherhood far exceeded her responsibilities on set.
"[Taking care of Jackson was] more challenging than anything I've ever done at work," she admits.

"I can do a 20-hour day on set easier than I can do a full mommy day without a break; at work it's your thing, and when you're with your kids it's all about them. But I loved it."
Following her two-year hiatus Montgomery is set to return to the screen in her new CBS series Unforgettable, a role that had her relocate her family from Los Angeles to New York.
"I told [Jackson], 'We're circus people, we have to follow the circus,'" she says. "I think it's good for him to get a different perspective on life."
While it's important for Montgomery to show her son, 3½, her "gypsy" spirit, she is willing to settle down and tie the knot with boyfriend, actor Adam Kaufman — under one condition.
"If Jackson, our son, wanted us to [get married], I would for him because sometimes it's important to kids, [but] marriage was never a priority for me," she explains.
"I feel like the bigger commitment is actually having a child together, that's really forever. With marriage, you can get a divorce."
— Anya Leon