Sarah Michelle Gellar: Charlotte Loves Veggies – and Sushi!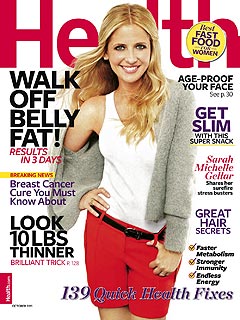 Courtesy Health
Staying fit has always been a priority for Sarah Michelle Gellar — no matter the time or place!
So, it was no surprise when the actress found herself going into labor at the gym.
"It was funny, too, because I was getting cranky and I said to my trainer, 'I'm just cranky today,'" Gellar, 34, says in Health magazine's October issue.
"She was like, 'Maybe it's because you're going to give birth!' And I was like, 'Nah, not yet.' It turned out I was in labor. I didn't realize."
Now the proud mother of 2-year-old daughter Charlotte Grace, her first child with husband Freddie Prinze, Jr., is hoping to pass on her healthy lifestyle to her little girl.
"We've already taught her to love healthy food. We took her to sushi on Saturday night and everybody couldn't believe what she inhaled," the Ringer star says. "I think it's important at a young age to enjoy different tastes."
Lately, the whole family has been putting their taste buds to the test with a daily blend of vegetables, whipped up by Gellar herself.
"We make this green juice for her. It's basically everything but the kitchen sink. We go to the farmer's market and buy everything and just put it in the juicer: kale, Swiss chard, carrots, celery,'" she shares. "And now we've all started drinking it and we've all been healthier."
While she's dedicated to staying in shape, Gellar can't completely escape her insecurities concerning her body, despite her ability to "tune it out." Fortunately, however, motherhood has given her a whole new perspective on the issue.
"I just have to remember that I'm human and I'm a mom. Being a parent changes the vanity at least a little bit. It has to. Your priorities are different," she says.
The shift in priorities came following Charlotte's birth and now Gellar isn't willing to let anything stop her from placing her family first in life. "I never do anything at lunch, because most of the time I eat before we break for lunch, and I nap during lunch," she explains.
"I don't want to miss the mornings with [Charlotte], so no matter how late we work, I get up with her. My weekends I refuse to work because that's her time. I love [my] job — it's not my first priority anymore."
— Anya Leon